A while ago I came across RagTrade Clothing Company. Sammi the founder hand makes, and sources all materials herself. I got in touch with her after purchasing the Jenna apron. Read on to find out all about the design process, and how you can make a lovely clothes dye from avocados!
For readers who haven't come across RagTradeClothingCo, tell us a little bit about it and why you decided to turn your hobby into a business?
So, I started Ragtrade in 2017 in Dubai after having my two daughters. Dressmaking has been something I have loved doing for fun and I have always been interested in textiles. I started getting sick of mass produced clothes made poorly with cheap fabric, and felt gross about buying something to wear when I didn't know who had made it. Were they working for a fair wage? Did they have a choice in it? Could they even have been a child!? And decided I wanted to make more of my own clothes so I could be safe in the knowledge that I knew exactly who had made them. I was encouraged by a couple of good friends that people need more choice with clothes which have been ethically and sustainably made and so Ragtrade was born!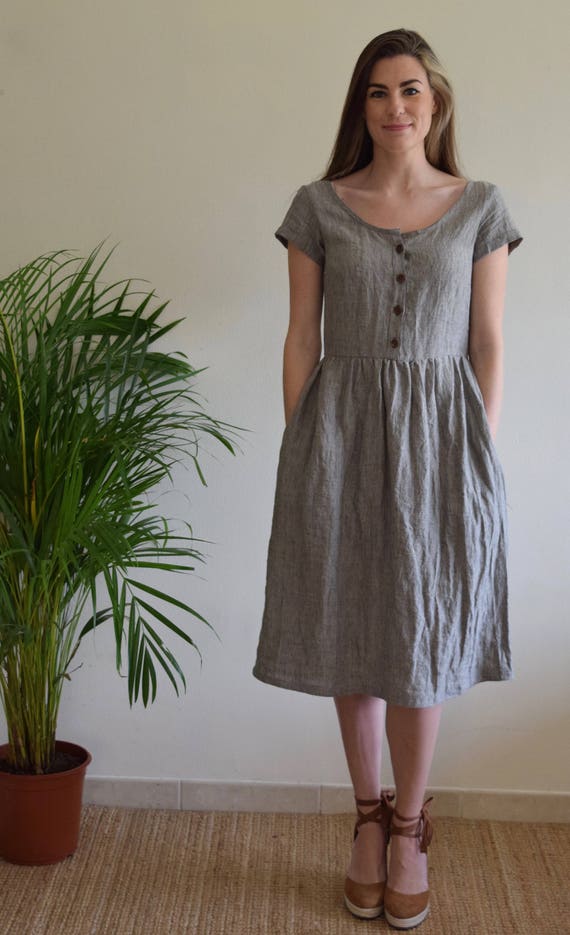 I can be completely transparent with every part of my business because, at the moment, it's just me: I design, pattern cut, cut the fabric, sew and package every single order. I wanted to get back to that way of dressmaking- knowing exactly who has made your clothes and where and with natural fibres. And, actually, this is why I chose the name Ragtrade; The name Ragtrade hearkens back to the days when the fashion and textile industry was informally known as the Rag Trade. There's something special about wearing something that you know has been handmade especially for you.
How do you pick the materials you work with? Do you consider sustainability and the environmental impact when you choose what you work with?
At the moment I work with 100% organic linen which I source from within Europe. It is one of the most sustainable fabrics around because it used very little water in it's production from flax and is fully biodegradable. It's a perfect textile to use in slow fashion because it's fibres are extremely durable and if well cared for can last for three to five decades! I always loved the aesthetics of linen- the texture of it, the way it falls, and the feel of it. There is something so classic about it, isn't there?! I believe linen will always be stylish. I mean, it's been fashionable since about 8000BC when the Egyptians were wearing it, so it's done pretty well so far! Reducing my fabric waste is also hugely important and I try to leave as little fabric as possible unused. I make lots of my spare fabric into binding and pockets. Did you know that second only to oil, the fashion industry is the largest polluter in the world? I was shocked when I read that, actually! We need to take responsibility for this and do our part.
Take us through the process from sketch to finished product? 
Oh I love this question! I actually have a small sketchbook that I have with me for jotting down ideas, sketches and inspiration when I need to. Once I've considered a design I'll sketch it properly, thinking about specific details. Then I make paper pattern pieces using my standard measurements and I'll make up a toile (a sort of 'mock up') in cheap calico fabric and try it, make adjustments, try it again and continue this process until it fits and looks how I imagined. Sometimes I'll even ask good friends to try the toile on and give me their options, and sometimes this means adjusting the toile again. Once Im happy that it is just right, then I'll make it up with the linen. I find the whole process really exciting, watching an idea from my head develop into something which can be worn. I'll always love the making side best because first and foremost I am a maker- but the more I do, the more I am falling in love with the designing side and the thought that anything is a possibility.
I love the natural colours and relaxed shapes in your collection, where do you get your inspiration for your designs from?
Thank you! I'm really into natural colours which are versatile and can be matched with all sorts of other pieces. I love the feeling of wearing something my body feels good in. There's nothing worse than being uncomfortable or overly 'aware' of the clothes on your skin. I suppose I'm a little selfish in that I'm making clothes which I would totally wear and which I do wear myself. The idea of a capsule wardrobe has become quite popular now and with good reason- reducing the amount we buy in exchange for just choosing carefully a few pieces we adore is much better for our environment (less waste!) and our mental health (less clutter!) so I love simple clothes which can be worn again and again, mixed and matched, and versatile enough to be worn casually, as work wear and even that can be dressed up. All of my designs have a certain functionality- and this has absolutely been intentional! The buttons on the Clairview top, Amelia and Eastbury Dress, and Denae jumpsuit are all to help out breastfeeding mothers- and all dresses and jumpsuits have big deep pockets because everyone loves a dress with pockets! All designs are roomy so they're comfortable to move about in- whether that is to wear at work, running after children, or just feeling good in the clothes you are wearing: we all deserve that after all! All my pieces are named after important people and places in my life and history- sometimes I share the stories behind the names on my social media.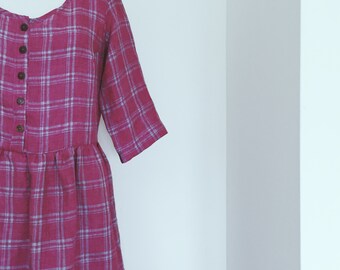 I have read a little bit about natural dying on your blog, what is natural dying and how does it work? How do you colour clothes with an avocado?!
Ah yes- the amazing avocado dye! I'd been following Instagram accounts of the likes of Rebecca Desnos, Botanical Threads, Maggie Pate to name a few and over a few months because very inspired by the idea of using the world around us to inspire our colour palette and intrigued by the idea that using plants, spices, food waste etc is an age old method of dyeing fabric. I saw a lot of avocado dyeing and just adored the beautiful range of pinks that can be achieved from using avocado pits and skin and just HAD to have a go myself. There is a wealth of knowledge online and I used the ebooks of Rebecca Desnos and Botanical Threads which were really useful. I found the process really grounding actually- getting back to basics and having to be patient and just let the process take it's time to get the colour I was hoping to achieve. I'm looking forward to experimenting with more colours and technique soon.
If someone is looking for something more unique, can you do custom pieces? 
I'm only making from my own designs right now but if you have a specific requirement- length, bust etc then I am more than happy to cater to what you need!
Anything around the corner at RagTradingClothingCo you can give us a little preview of?
I have big dreams for Ragtrade- part of that dream is that I'd love for it to become a sort of social enterprise eventually. But this is long term! For now, look out for some new pieces for AW18, some new styles- including more separates, colours and maybe fabrics- I'm currently looking into good winter fabrics which are also as sustainable as linen. I'm also working on a website, which I can't wait to get launched!
I can't wait to see the next collection, once I have completed my sustainable style challenge, I will be heading straight back to shop! Thank you so much to Sammi for speaking to me and giving us an insight into RagTrade Clothing Company. Go check them out here.